E-Flite Mini Ultra Stick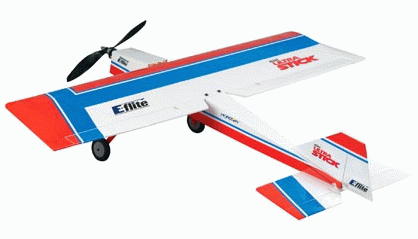 Here is some build info for my
E-Flite Mini Ultra Stick
(MUS) electric plane.
I'm using a BP A2814-6 motor, with BP 45A ESC, APC 9 x 6 Thin Electric prop (LP09060E), and Cellpro 3S 2100mAh 18C LiPo battery. This combo gives lots of thrust and speed at a very reasonable price. This motor can take more amps and has more and speed than a E-Flite Park 480 (the "standard" upgrade motor for the MUS), at the cost of more weight (103g vs. 87g). I've added weight to the tail to get a good center of gravity. This setup will pull about 35A at full throttle.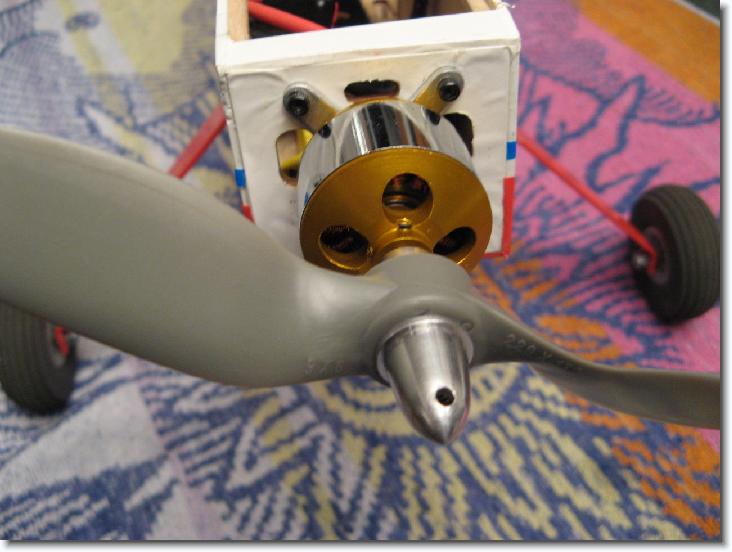 One thing with the BP A2814-6 motor mount on the MUS is that I had to drill new holes in the outrunner firewall for the 4-40 blind nuts (because the mount is larger) and I had to enlarge the center hole. I also opened up a couple of spots on the front of the fuselage where the upper two blind nuts would touch (so the firewall would sit flush). These mods were not difficult and the mounting worked well.
The BP 45A ESC has no battery-eliminator-circuit (BEC), so I use a separate "HobbyWing Switchable U-BEC 3A 5/6V V3 (3A-UBEC)", setup at 6V, which provides more speed and torque for the servos. A separate BEC also provides more reliable power to the receiver. Currently using Futaba S3114 servos on the ailerons and Hitec HS-55 servos on the elevator and rudder.
Previously I was using a BP A2814-8 motor with an APC 11 x 7 Thin Electric prop (LP11070E), which also works well, though I prefer the faster RPM speed of the A2814-6 motor.
For the BP 45A ESC, they have this note in the listing (but not in the directions): For outrunner motors, use 15° timing and 16Khz PWM.
On my MUS I have an HRPoly-X Low-Voltage Warning Device, which goes from green to red and beeps when the battery level gets low. (I install these on all my aircraft that use lithium-polymer batteries.) It comes from Custom Idea in the UK:
http://customidea.com/shop/product_info.php?products_id=102
. It's available for $27 from heliproz:
http://www.heliproz.com/prodinfo.asp?number=335444
.
Other mods: I installed a steerable tail wheel using "Du-bro Tailwheel Bracket (For .40 size Airplanes) #375" and "Du-Bro 3/4" Dia. Tailwheel For .40 Size Airplanes (1/16" Axle Diameter) #75TW".
I use nylon screws (Micro Fasteners Nylon NBF0416 4-40x1") to hold on the landing gear and wing. The advantage of these is that, in a crash, the screws will snap off instead of pulling out parts of the fuselage. I've added a third nylon screw to the landing-gear mount because I found that with two they could break off a little too easily.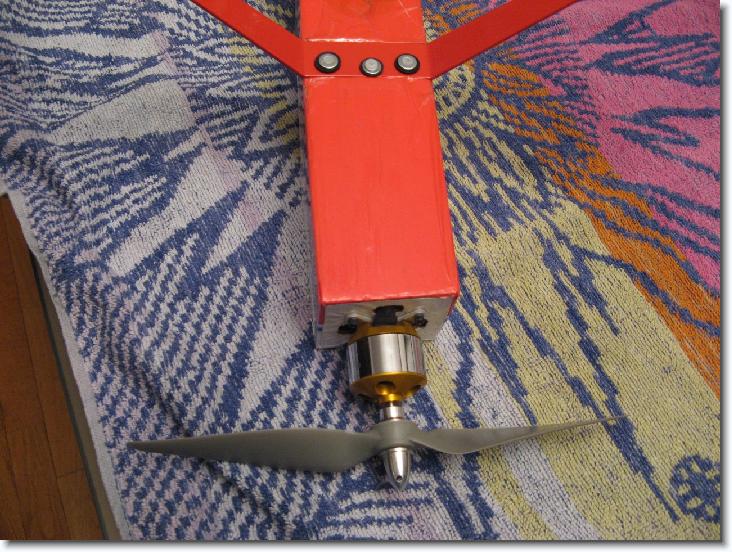 Click here to view a gallery of pics of my Mini Ultra Stick.
E-Flite Mini Ultra Stick ARF:
http://www.horizonhobby.com/Products/Default.aspx?ProdID=EFL2250
BP A2814-6 motor:
http://www.bphobbies.com/view.asp?id=V450327&pid=B1898545
BP 45A ESC:
http://www.bphobbies.com/view.asp?id=A0780192&pid=B2049176
APC 9 x 6 Thin Electric prop (LP09060E):
http://www.bphobbies.com/view.asp?id=V785949&pid=S191853
Cellpro 3S 2100mAh LiPo battery:
http://www.fmadirect.com/Detail.htm?item=2210&section=69
HobbyWing Switchable U-BEC 3A 5/6V V3 (3A-UBEC):
http://www.helidirect.com/product_info.php?products_id=4405
Du-bro Tailwheel Bracket (For .40 size Airplanes) #375
http://www3.towerhobbies.com/cgi-bin/wti0001p?&I=LXD850
Du-Bro 3/4" Dia. Tailwheel For .40 Size Airplanes (1/16" Axle Diameter) #75TW
http://www3.towerhobbies.com/cgi-bin/wti0001p?&I=LXD811
Micro Fasteners Flat Head Machine Screws - Nylon NBF0416 50 4-40x1":
http://www.microfasteners.com/catalog/standard.cfm?Category=NYL&SubCategory=NBF
Discussion forum for MUS on rcgroups:
http://www.rcgroups.com/forums/showthread.php?t=429964
---
Mini Ultra Stick on Skis
During the winter I put
Dubro Park Flyer Snow Skis
on my Mini Ultra stick. Big-time fun, bringing it up and down on the skis: